Published in the Times Higher Education, 6 May 2010
Aids denialism is estimated to have killed many thousands. Jon Cartwright asks if scientists should be held accountable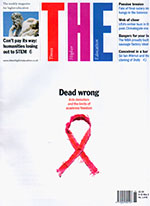 In late 1996, Robert C, a social worker living in New York, was diagnosed as HIV-positive. At first he followed his doctor's advice and collected his prescription antiretrovirals, which stall the disease's progression. But he never took the drugs. Instead, encouraged by a series of articles in the US magazine Spin, he did nothing.
For a few years, everything was fine. Then, in February 2003, Robert spotted what looked like a blood blister on the back of his calf. That, he would later discover, was Kaposi's sarcoma, a cancer known to be triggered by Aids. Soon thereafter, he noticed that his tongue was growing patches of white fur. That would turn out to be hairy leukoplakia, an infection also strongly linked with Aids. By May that year, he had contracted Aids-related pneumonia, forcing him to revisit a surgery. But the doctor unknowingly prescribed treatment for common pneumonia: Robert refused to admit that he had HIV.
Only in January 2004, having attempted suicide to escape a nervous breakdown, did Robert finally make it into hospital and receive the drugs that would save him from death. "I still have these moments when I have to remind myself that I'm not in that world any longer," he says now, clear of Aids for almost six years.
Robert is one of many who, in the wake of a traumatic diagnosis, have succumbed to the belief that HIV does not cause Aids. It is an idea circulated by so-called Aids denialists, who claim – contrary to the overwhelming scientific evidence – that HIV is harmless, or doesn't exist, and that the true causes of Aids are either certain "lifestyles" or antiretrovirals (ARVs) themselves. A recent survey of gay and bisexual men in four US cities found that 45 per cent think that HIV does not cause Aids, and more than 50 per cent believe that HIV drugs do more harm than good. In South Africa, policies stemming from Aids denialism led to an estimated 340,000 deaths. The shocking toll is prompting many scientists and activists to ask: who should be held accountable? […]
The rest of this article is available here.